Well I thought I'd give a peek into my hair stick"workshop." (Nevermind the fact that I don't actually have a shop and I pretty much work wherever there's good light and ventilation. =P)
Here we have my toolbox/traveling workshop. Bought this beauty for this purpose specifically. It has a compartment up top for things like my drill bits, sanding sponge, super glue, and of coarse... my beloved Dremel rotary tool without which none of this would be happening.
The bottom compartment houses four slide out containers with lots of little cubby holes for beads and stuff. =D I love cubby holes. As my bead collection grows, this may change but as of right now, each drawer is designated for either tools or certain kinds of beads.
First thing's first though. Meet my Dremel. No it doesn't have a name...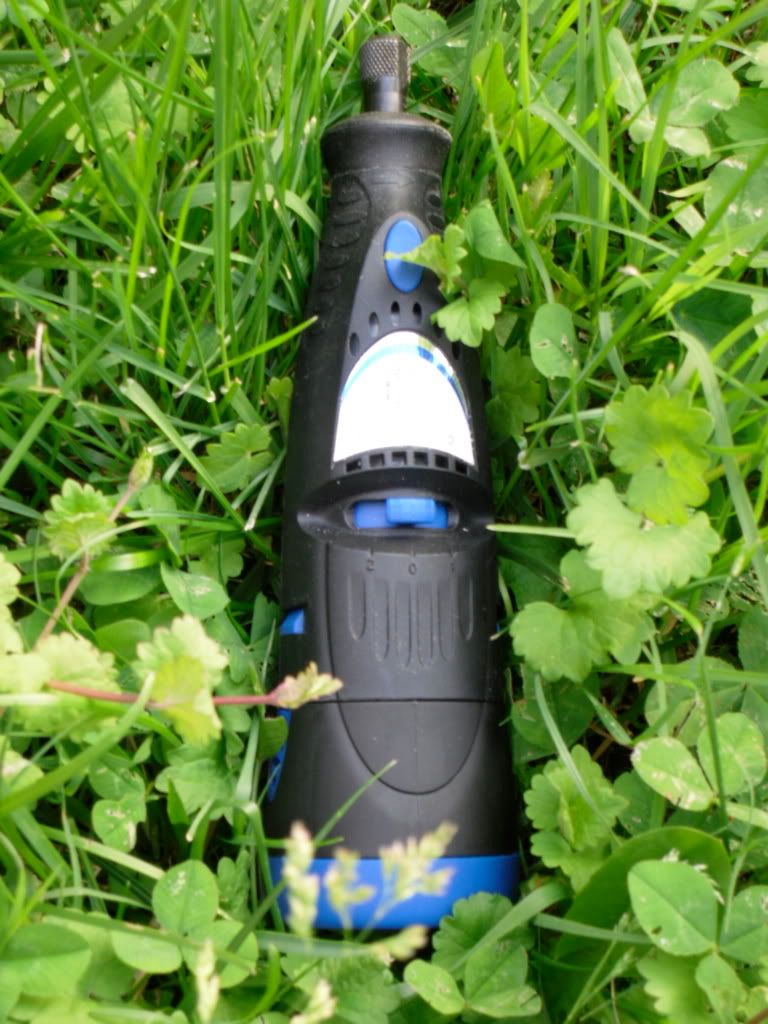 And here we have Drawer #1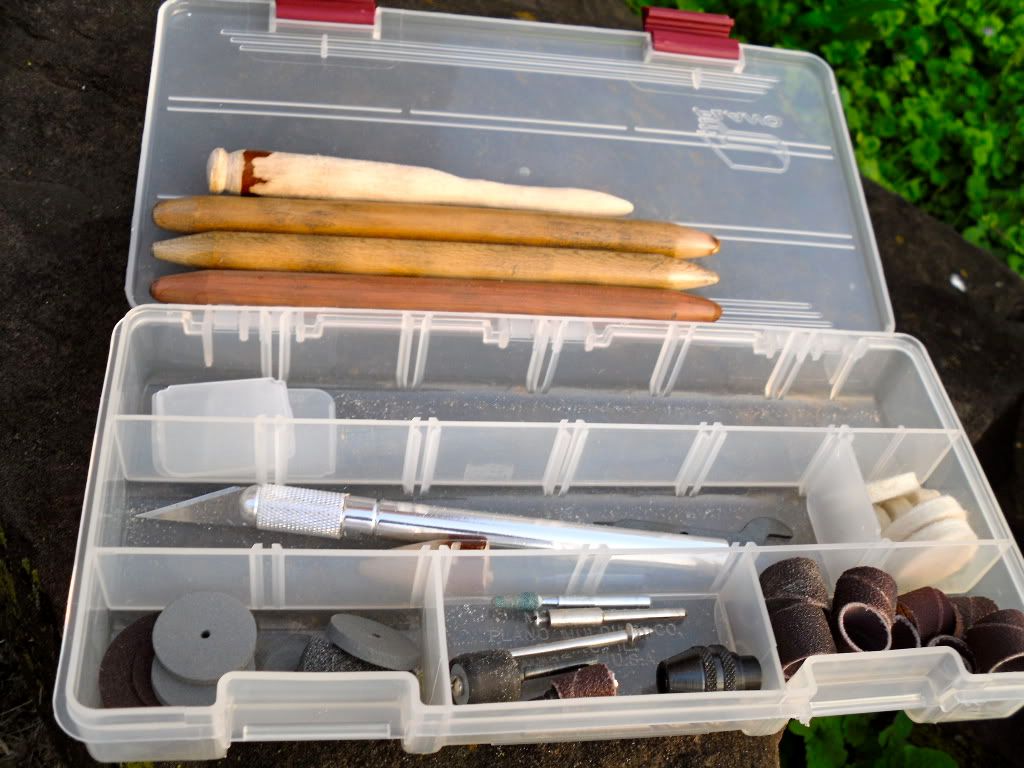 This is the "tool" section. Here I have sanders, buffers and saws galore for my Dremel. Plus an X-Acto knife that doesn't get much use.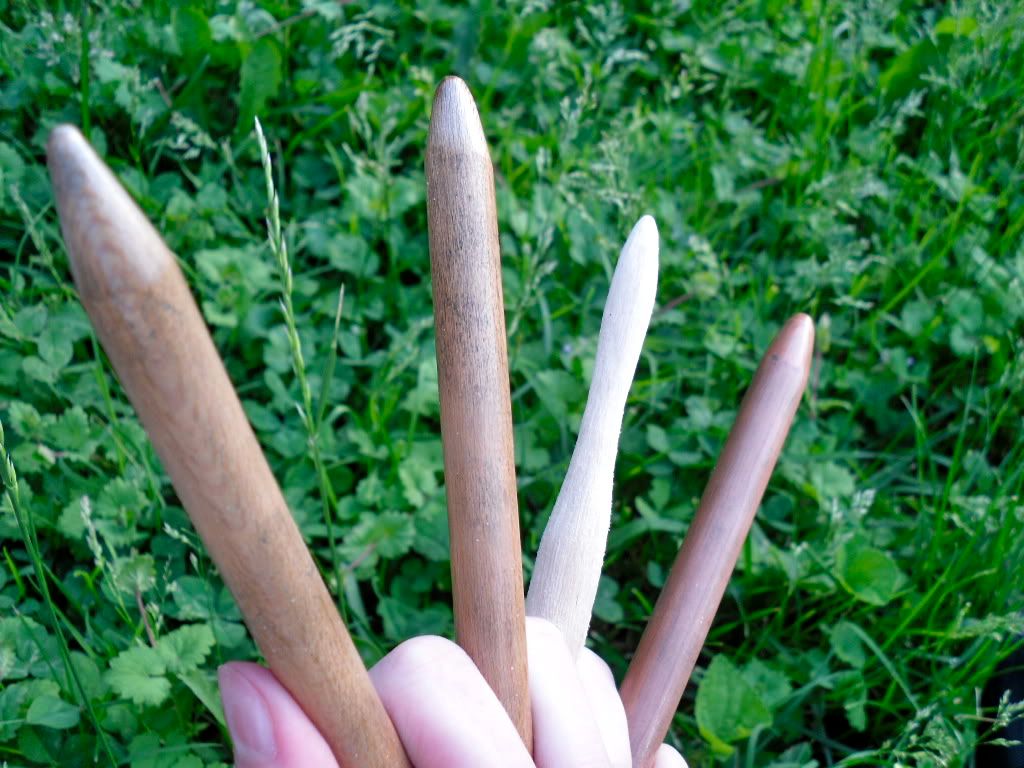 My grandfather was kind enough to send me some of his wood (which he also shaped into dowel rods for me!). As you can see one of them was underway when the photo was taken. It's finished now. I'll take pictures of it tomorrow, once it's done drying and setting. Unfortunately I don't know what kind of woods they are... I know one of them is cedar... but I'm not sure which. =/ I think it's the one I've already started working on. If there's anyone out there who knows their woods, I'd love to know what they are. Aside from these I have some simple dowel rods from Walmart. Once coated with enamel they turn some beautiful colors and the grain really pops. =)
Drawer #2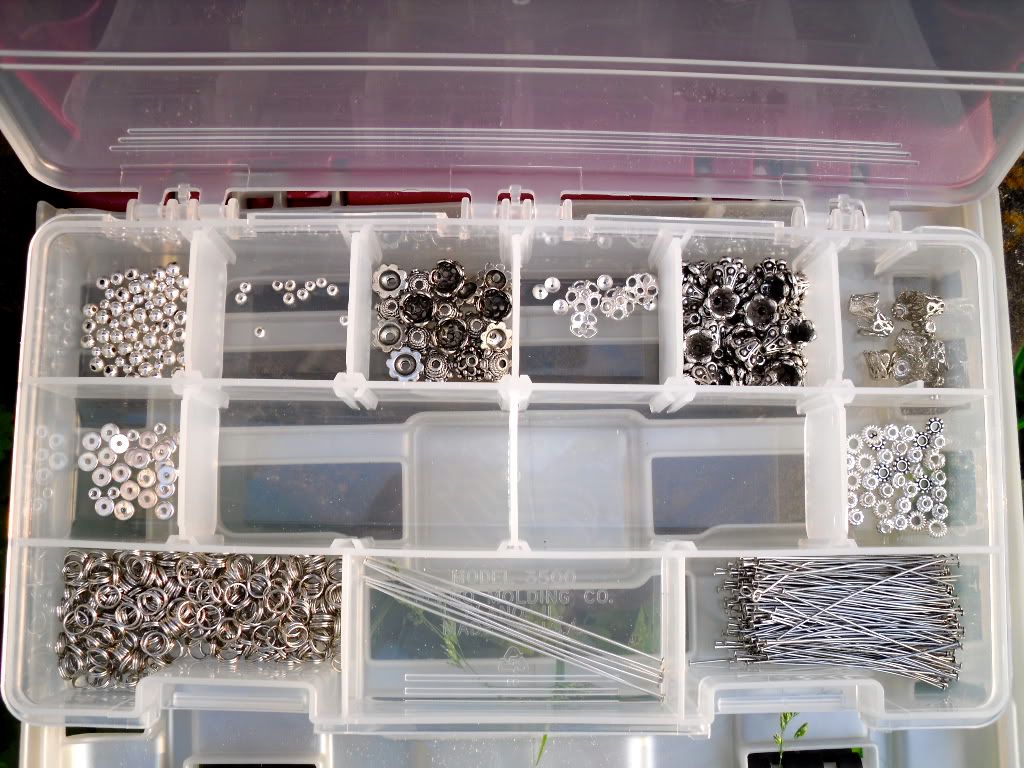 This is the metal section. Headpins, beadcaps, rondells, small rounds... And yeah, I know there's no yellow metal. I can't help it. I like silver.
Drawer #3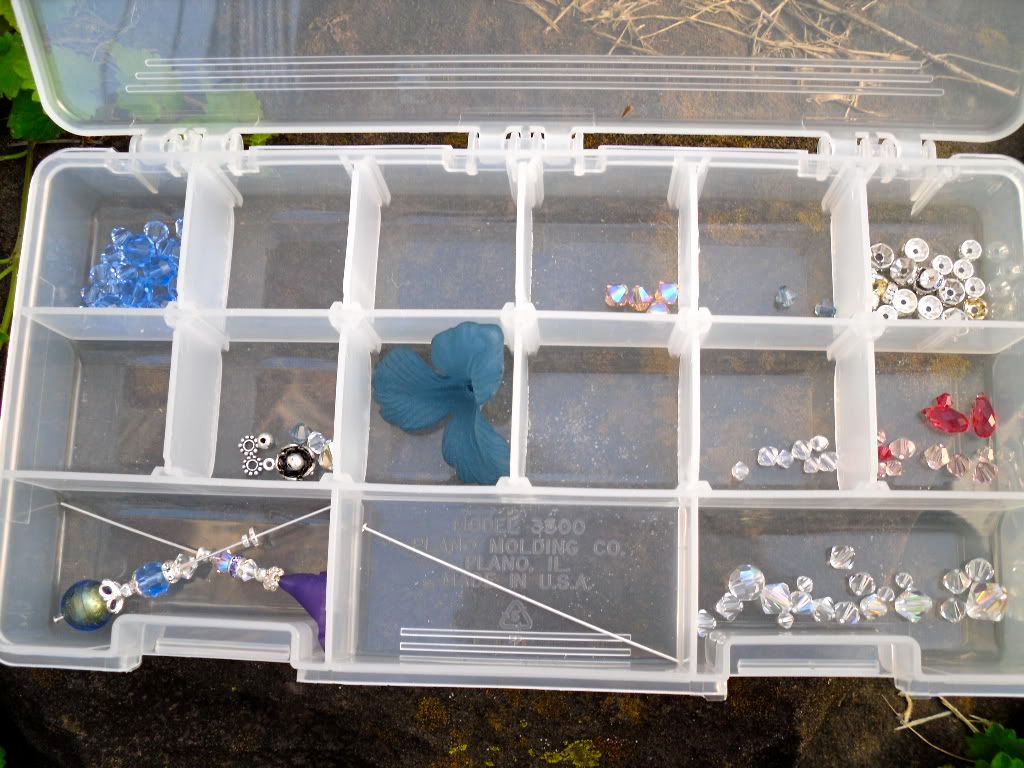 Mm... I love this drawer. Here I keep all of my crystal beads. Round, bicone, rondells and teardrops. Plus a lucite flower that I'm not sure what I'll do with and two topper designs that were in the works. Yay, sparkly!!
Drawer #4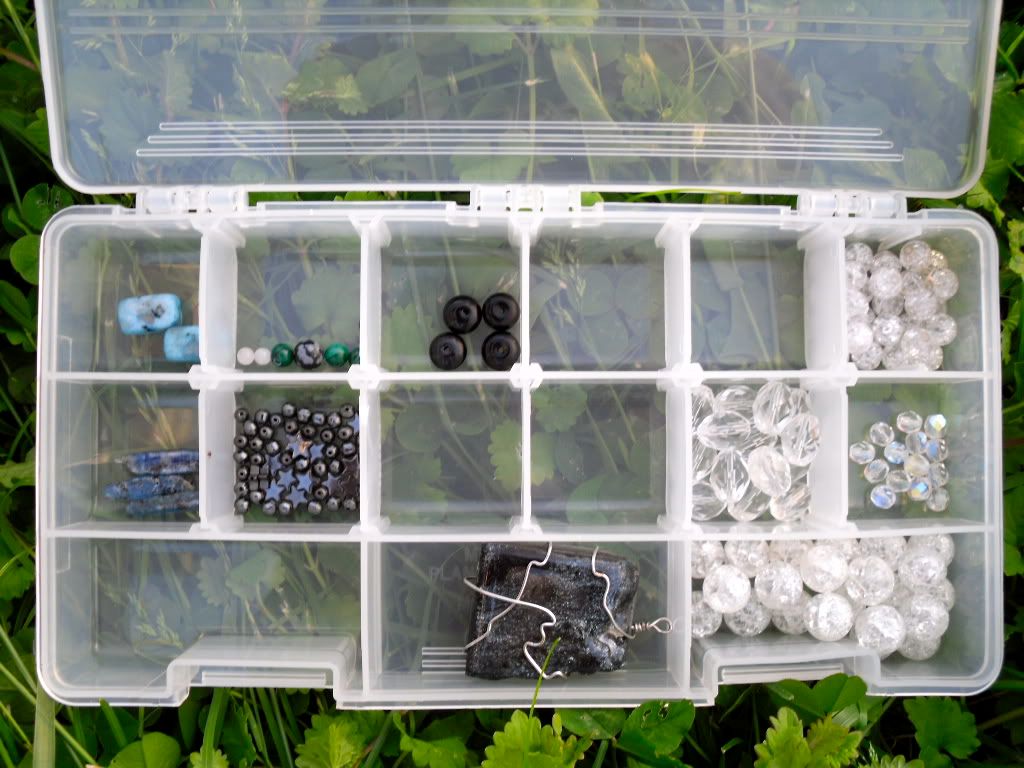 And last but not least, the glass and gemstone drawer. They had to share. =( Here we have two turquoise beads, a few Kyanite beads, lots of Hematite, some Onyx rondells and a few other rounds of Rose Quartz, Malachite and a Snowflake Obsidian. The huge thing down at the bottom is a necklace in the making. It's a large piece of some special kind of Hematite. An absolutely beautiful stone and I want to make sure I come up with a design that'll do it justice. On the left are czech glass, crackle glass, and faceted glass beads. Nothing too fancy, but they're still pretty. =)
So here's everything displayed in a group shot.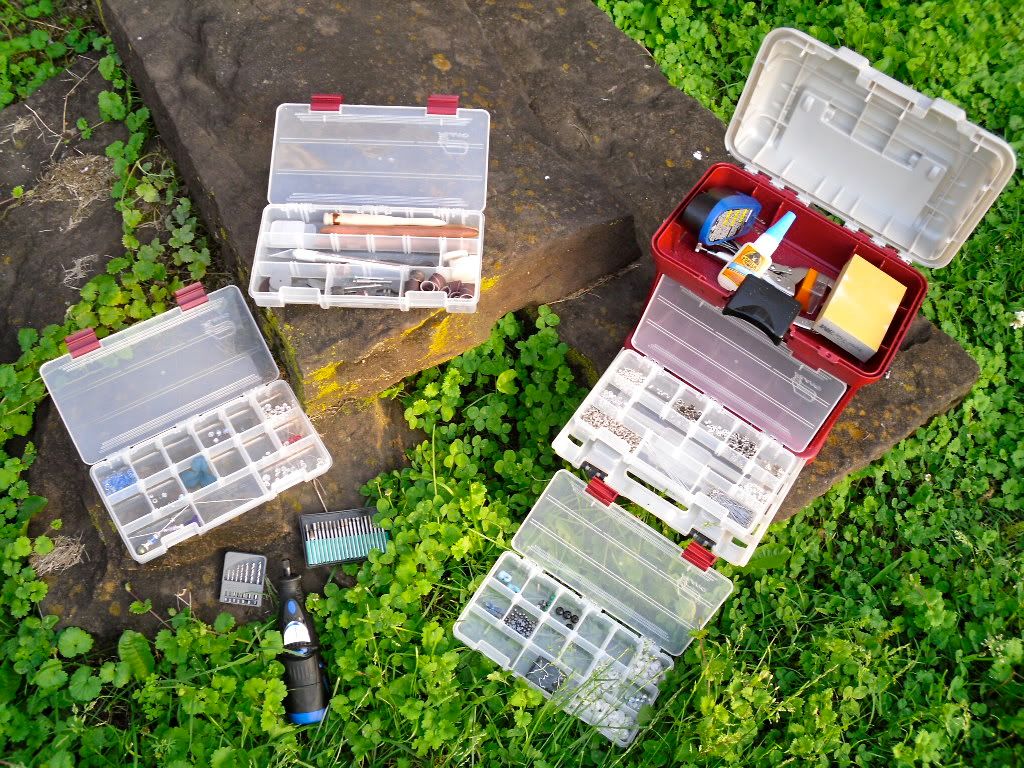 And here're some hair stick topper designs in the works. A modified version of one of these got used on the stick that's shown in the middle of its carving stage. Not telling which though. ;) That'll be in the next post.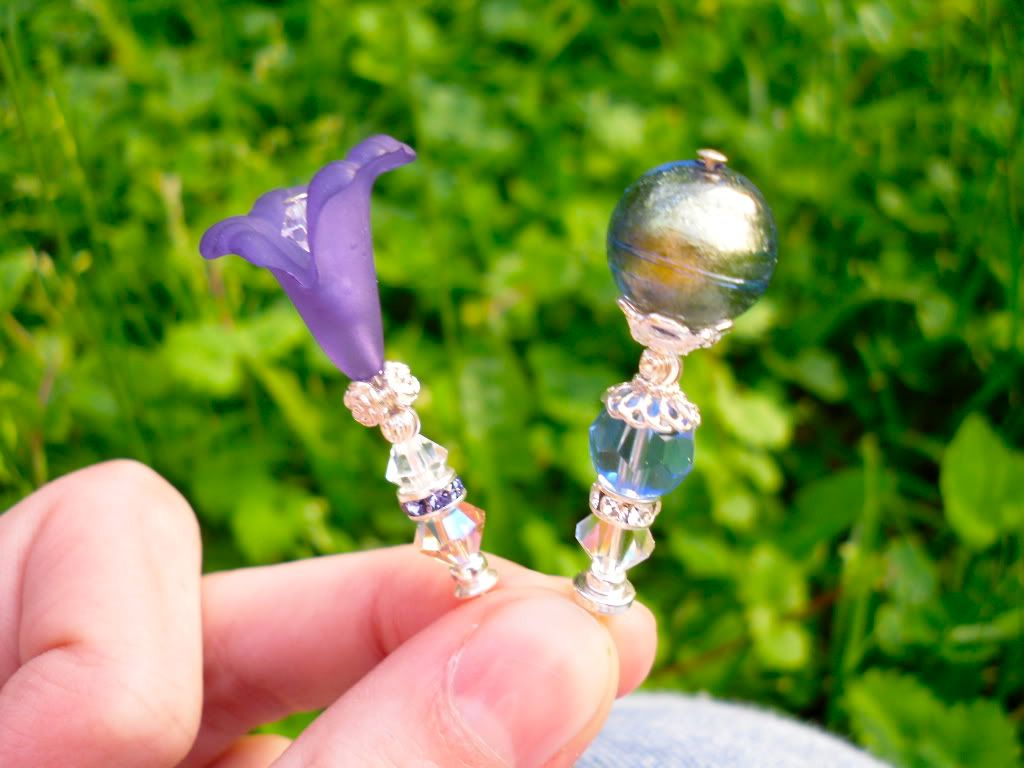 I hope you enjoyed this little peek into my technique and preview of things to come. =D